Beauty Lightomatic II by David Vickers
This camera came to me thanks to my wife - she saw it on Freecycle (a forum where people give things away they no longer want or need, to be used by someone else). We went over to Guildford (about 10 miles away from me) to pick it up. Total cost £nil. Now that's my kind of camera; but I'd never heard of Beauty cameras and I don't think they're exactly a well-known make, so this is my take on these 'unknown' cameras.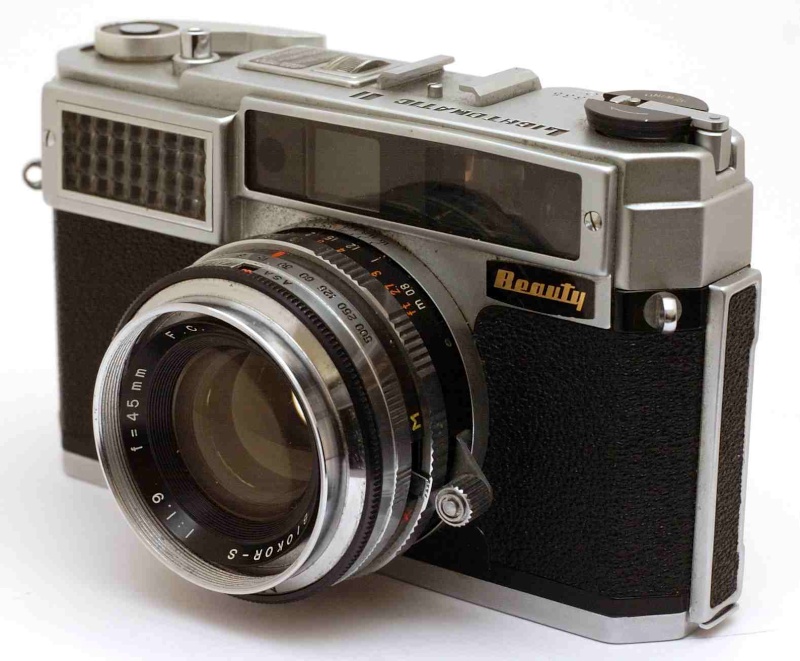 This camera dates from the 1960's and is nothing if not sturdily built - it's one hefty piece of metal and is typical of the coupled rangefinder genre really - Konica S2, Canon QL, and so on.
The Lightomatic II is fitted with a 45mm f1.9 lens with a Copal SV shutter providing shutter speeds in the range 1/500th down to 1 second, plus a B setting holding open the shutter as long as you hold down the shutter release button. The front of the lens is also threaded for a 49mm screw in filter or lens hood (although you need to be careful when using lens hoods not to restrict your view through the viewfinder. The lens assembly allows you to select the shutter speed, aperture and film speed on the various rings around it - film speeds from ASA6 to ASA1600 are selectable.
The shutter also provides a 10 second self-timer via a small lever on the underside of the lens assembly; next to the lens is a PC socket for firing a flash, with a further switch allowing the user to select either M (bulbs) or X (electronic flash). The great thing with the leaf shutter design is that you'll be able to sync flash at all shutter speeds, and that means you can get creative!
To the left of the lens (looking at the front of the camera) is a large window, which looks like a flash but is actually the metering for the camera. On the top plate is a small needle giving the user the exposure reading. Unfortunately, on this camera the cells are dead and the metering inoperative; and it's likely you'll find the same on any Lightomatic that you buy today.
The top plate has an accessory holder, which looks like you could connect a flash to it, but it has no connectors and is entirely metal, and that would instantly short any flash! The serial number is stamped in above an engraving showing the film plane; not something you see much these days!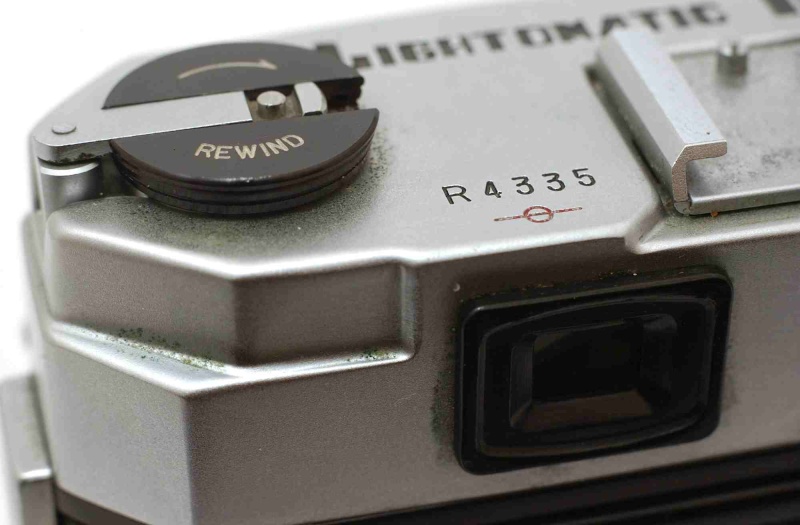 The shutter release button is threaded for a cable release, and next to it is the film advance lever which will also cock the shutter; this can be achieved in a single turn or multiple 'ratcheting'. The film advance lever clicks shut and fits flush with the back of the camera, in this position the shutter release will not operate and you'll need to open the lever a bit to use the camera. To the right of the advance lever is the film counter.
The Beauty Lightomatic II is a well-designed camera, and was quite well specified with a fast f1.9 lens, metering, PC socket for flash, settings for electronic flash or flash bulbs, and a wide range of selectable film ISO speeds.
These cameras are not worth much money and if you are tempted to buy one, you really should expect to service the camera - at the very least check the shutter is not sticky by testing it several times at each speed, and also check the focus ring as the grease used may well have hardened up over time and be rather stiff.
Other than that, it's a well-built, sturdy camera capable of taking some decent images. If you have one, or you have memories of using any of the Beauty cameras please send in your comments to the forum.
David Vickers.
Last edited by Admin on Sun Dec 28, 2008 10:36 am; edited 1 time in total

_________________
David Vickers.
Creative Image Maker: dedicated to traditional photographic processes.
Admin




Posts

: 21


Join date

: 2008-12-22


Age

: 49


Location

: Near London, UK.



I got a Lightomatic from someone one ebay years ago. I got it in non functioanl condition so I hever got to use it, but ut was heavy. Felt really well built.
Admin




Posts

: 19


Join date

: 2008-12-22


Age

: 48


Location

: Slower Lower Delaware USA



Hi
Wene I first started photograph in 1965 my first camera was a Beauty Lightomatic II which I paid £25.00 second hand.
I still have the camera which still works fine.

Kind REgards
LOu



Posts

: 1


Join date

: 2011-06-07





Similar topics
---
Permissions in this forum:
You
cannot
reply to topics in this forum