This article first appeared in Creative Image Maker in 2008.

8x10 - A Journey

8x10 black and white photography is like dark chocolate ala mode. You just can't stop. I love shooting and enlarging 8x10 black and white negatives. Having shot 8x10 for only three years and having learned virtually all I know from others on APUG, the LF forum and class, I would hardly pretend to be an expert. From that perspective let me tell what led me to 8x10 and hope that it will lead you to try. From there detail, perspective control, tonal range and razor sharpness will all be your happy self discovery.

In 2003 I retired, having spent the last 20 years in software sales. I decided to go back to college nearly 40 years after I graduated the first time. By luck we live in Akron, Ohio USA, that has a college still supporting a Photography Major, two B&W darkrooms, a Color darkroom and some 35 enlargers. In addition the State of Ohio encourages senior education by allowing any resident over 60 to take available class seats in state funded schools for the cost of parking and lab fees.

Though having shot 35mm for 50 years with occasional use of a bathroom darkroom, I started in Photo I. The assignments were wonderful and challenging. The head of the department encouraged serious students to attend weekly critiques of the advanced classes. I was dazzled by the 120mm negative as one young lady showed off her new Mamiya 645. She gave a strange look when this 63 year old man told her he had negative envy.

Yes doctor, that is when it all started. In a few weeks I had a Mamiya RZ67 from eBay. Those negatives seemed so large. The images were crisp. Grain was gone. Clarity was expanded exponentially. Soon I was savoring "Advanced Photography" and "Introduction To Professional Photography". Half a term into using a school provided Calumet 4x5 an eBay Linhof Technikardan 4x5 arrived. By then I was pleading with my wife and designing my home darkroom. Two friends even older than I built the darkroom with me acting as go-for and wife pacifier.

Both cameras were a little difficult for me to focus because it seemed so dark in there. Coincidentally at this point I met a Cleveland food photographer who was known to use two old 8x10 Linhofs, one with three standards and amazingly long bellows draw. In talking about all things German it came out that he had always wanted a Porsche Speedster and I had always wanted a Linhof. Since we had both available, he invited me to shoot my car in his studio, using my Linhof 4x5 and his Linhof 8x10.

Doctor, my plummet into 8x10 Obsession came when this photographer had me to take the first head on shot of the car. As he was focusing for his follow up shot, he said, "what about the sand bag by the driver's side wheel?" What sand bag? It was so dark on the 4x5 screen that I had not seen a full sized sand bag next to the wheel. I went over to see his ground glass. It was like a cable television screen. It was enormous. It was bright. I could see the weave of the canvas in the sand bag.

All the time I was moving to larger negatives I was reducing the number of enlargements required to fill a 16x20 and later a 20x24 inch print. Subscribers to both forums have done the math of how many times a 35mm negative has to be enlarged to get there verses an 8x10. The numbers are impressive, but what convinced me was when a former instructor and Registrar of the local Art Museum looked at one of my 16x20 prints and asked what paper I was using? He loved the clarity and tonal range of the image. I told him it was the same Kodak paper I had been using in his course. He looked confused and then I told him it was the 8x10 negative.

At this point in my life, in retirement, 67 years old, I have taken a personal interest in Entropy, the inevitable and steady deterioration of a system. I see it in myself and in many things about me. In some systems it is an unattractive process, but in others the weathering, the toll of time, takes on an exciting and beautiful character.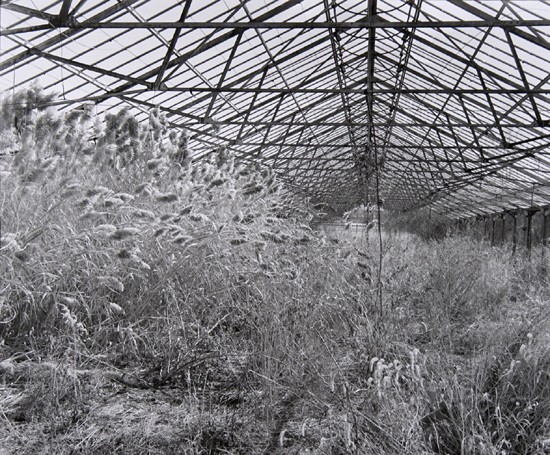 An hour's drive from home there are twenty greenhouses in a row, a quarter of a mile from Lake Erie. Because of heating costs the greenhouses shut down the winter of 1991. Six thousand tomato plants died over night and Entropy began to take over the buildings. In sixteen years the storms of Lake Erie, the heat of the summer sun, the growth of wild plants, the invasion of animals and vandals have accelerated the inevitable and steady deterioration of a system.
I love to photograph Entropy, in all its textures, distortions and decline, in a very formalist style, taken from the thoughts of the F64 group. The open sky and extensive glass allow light to create many wonderful patterns that change by the hour and can be captured by the patient. I hope you will enjoy these scans of my 20x24 inch prints enlarged from 8x10 negatives.
This journey of love has seen my work juried into twelve competitions. two solo shows, with discussion of a third in process. My wish for you is that these images and my tale of love for 8x10 photography, will encourage you to try the beauties of this large format.
If I can help, encourage or answer, please PM me as jp80874 on APUG and I will be happy to respond.
John Powers
Admin




Posts

: 21


Join date

: 2008-12-22


Age

: 49


Location

: Near London, UK.





Similar topics
---
Permissions in this forum:
You
cannot
reply to topics in this forum